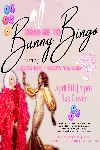 Date:
April 08, 2023 to April 08, 2023
Where:
Mesa Mezcal, 400 West Las Colinas Boulevard, Irving, Texas, United States
Drag me to Bunny Bingo! Make your reservations on OpenTable now for this special Drag Bingo event. Cover includes five 6on bingo games, parking, and a show with @theliquormini and @rockytacoma69 plus prizes and surprises! You don't want to miss this.